WEST PLAINS, Mo. – The 27th annual Grizzly Golf Classic, presented by Southern Bank, will take place on October 10 at West Plains Country Club.
The tournament, hosted by the Grizzly Booster Club, will be a three-way race to benefit the Bo Pace Memorial Scholarship and Missouri State University-West Plains (MSU-WP) Grizzly Athletics operations.
"For nearly 30 years, our community has shown up to support Grizzly Athletics and enjoy a fun-filled day at West Plains Country Club. We are thrilled with this year's Grizzly Golf Classic and appreciate the support of Southern Bank and all of the other sponsors who make this event possible," said Rachel Peterson, Director of Development and Annual Giving at MSU-WP.
"Southern Bank is proud of its association with MSU-WP – it's the staff, the students, and their indelible mark on our community," said Southern Bank Chairman Zack McNett. "This is the sixth consecutive year that we have sponsored the Grizzly Golf Tournament, and we look forward to continuing this partnership in support of our local institution of higher education.
Registration for the tournament begins at 10:30 a.m. Participants will leave at noon.
Golfers are encouraged to practice their swings on the driving range with shot balls prior to the start of the event.
Lunch and premium Grizzly prizes will be provided to all attendees. Special prizes will be awarded to flight winners.
To register a team for the event, call the MSU-WP University Advancement Office at 417-255-7923 or 417-255-7234, or visit WP.MissouriState.edu/GrizzlyGolf.
Teams are encouraged to provide their own golf carts. Those who need to rent a cart must submit their cart reservation with their tournament registration and pay a $40 cart rental fee by September 19th.
"This will be my first Grizzly golf tournament and I'm really looking forward to attending the event and meeting everyone involved," said Grizzly Athletic Director Rusty Laverentz. "The tournament is a big event for the athletic department. This helps with scholarships and other departmental needs.
sponsor a hole
Area businesses and individuals are invited to sponsor a hole for $200. Other sponsorship opportunities are also available.
Interested individuals should contact the MSU-WP University Advancement Office at 417-255-7923 or 417-255-7234 for more information, or visit WP.MissouriState.edu/GrizzlyGolf for a complete list of sponsorship opportunities.
"I would like to thank all the teams that registered, as well as the sponsors and committee members for making this event possible," said Laverentz. "If you haven't registered yet, what are you waiting for? You're going to have a great time and help a great cause! See you soon at golf!"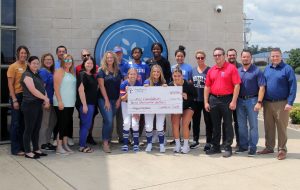 FOR THE SIXTH consecutive year, Southern Bank is the Presenting Sponsor of the 27th Annual Grizzly Golf Classic. Present for the presentation of the check were front row left Southern Bank clerk Kelcee Bales; Katie Dudden, Deputy Director of Donor and Alumni Relations at MSU-WP; Quin Patterson, MSU-WP Events Coordinator; Rachel Peterson, Director of Academic Advancement and Annual Giving; Southern Bank employee Heather Butler; Grizzly Softball players Megan McCrackin and Madalyn Ivy; Grizzly volleyball player Doga Kutlu; Jared Phay, Grizzlys head basketball coach; Bank of the South President Zack McNett; and Dakota Bates, MSU-WP Associate Vice Chancellor of Communications. Back row: Southern Bank employee Holly Yoakam; Robson Da Costa, volunteer Grizzly Volleyball Assistant Coach; Grizzly softball head coach Don Long; Grizzly athletic director Rusty Laverentz; basketball player Grizzly Sterling White; Grizzly volleyball player Manuela Bibinbe; Pati Figueiredo, Grizzly's assistant volleyball coach; Paula Wiedemann, Grizzlys' volleyball head coach; and Weston Gant, employee of the Southern Bank.